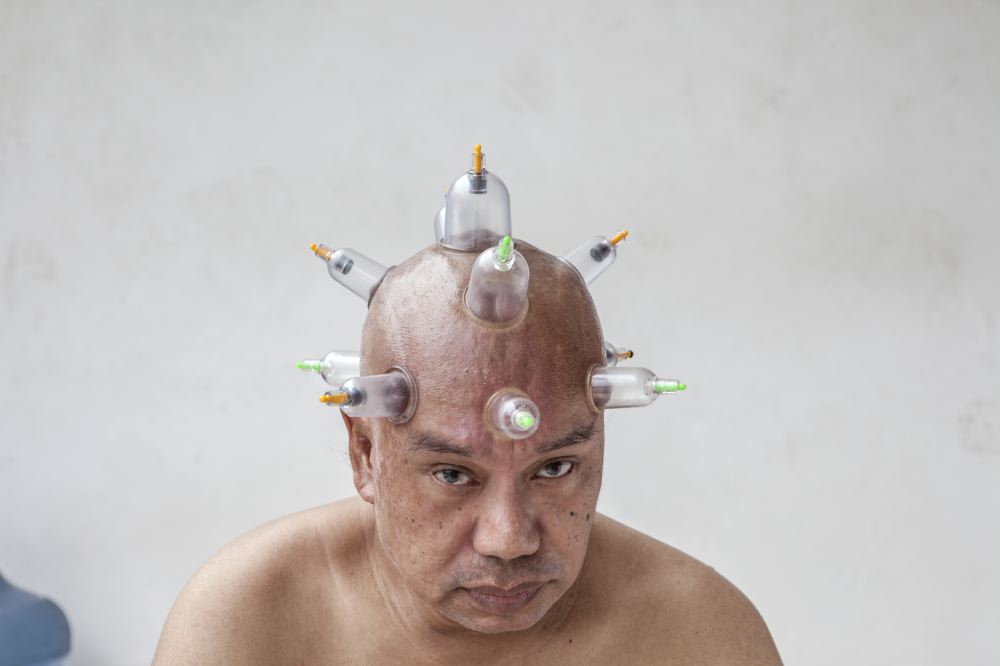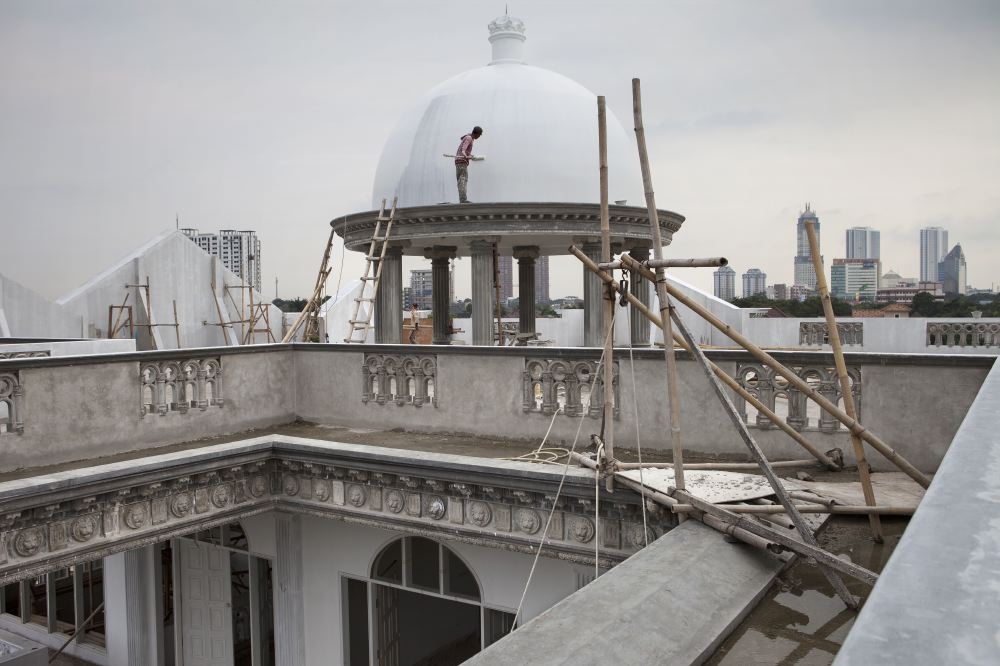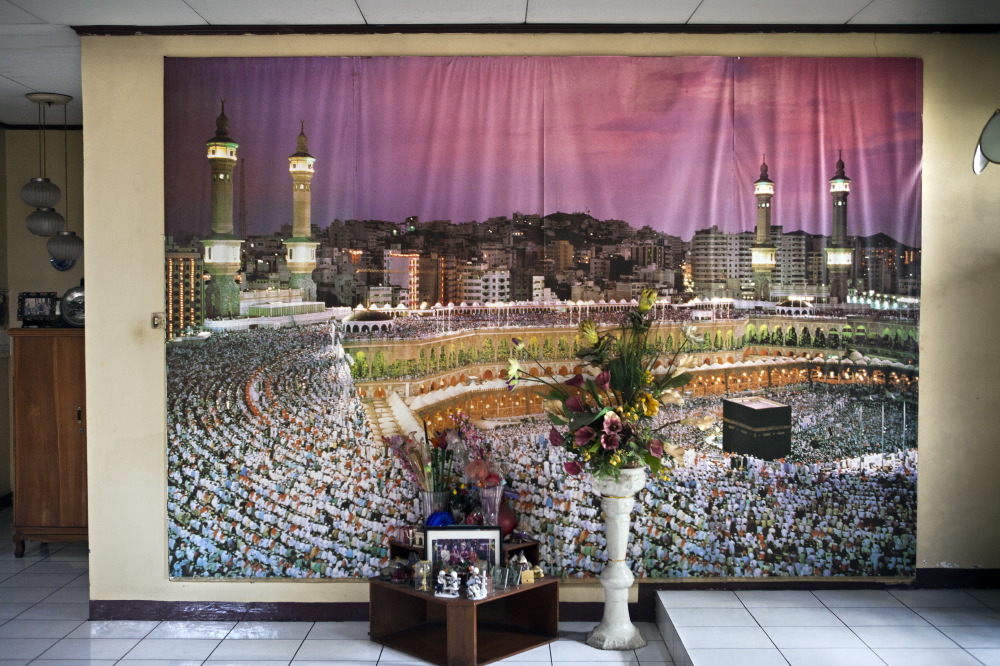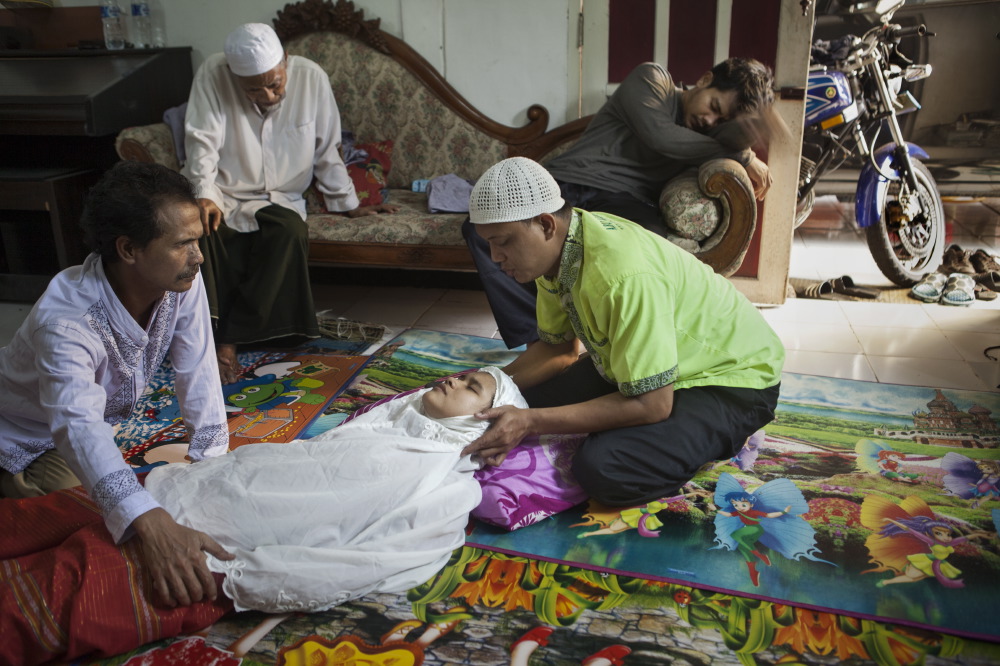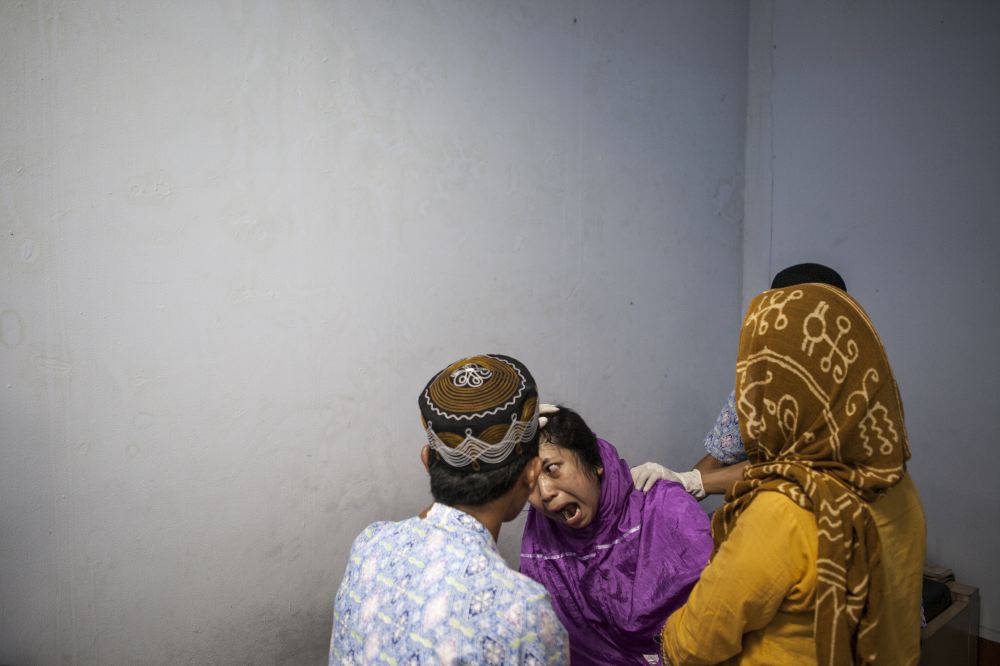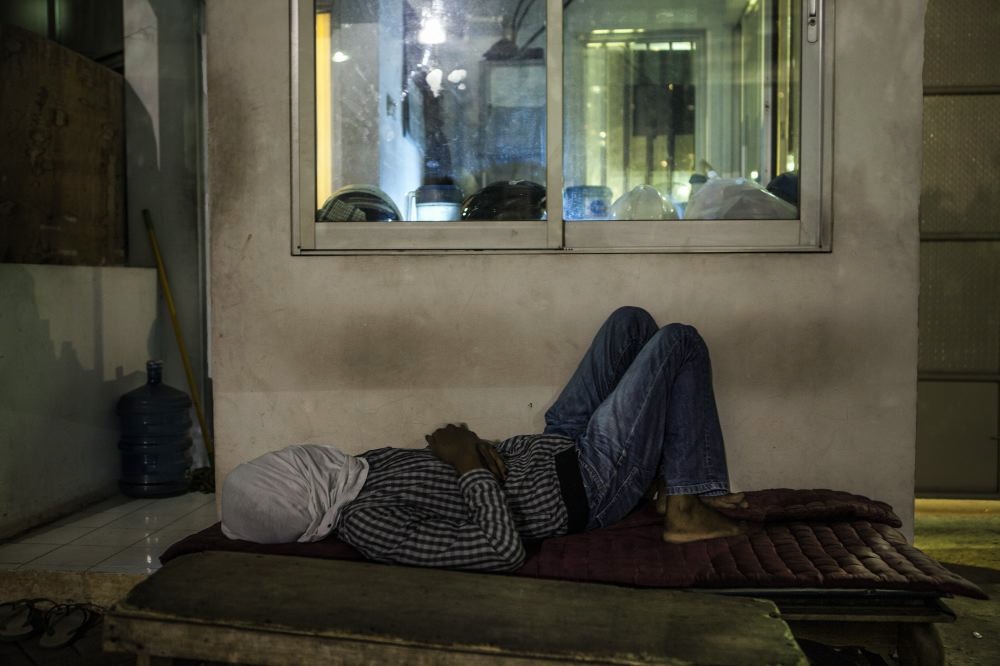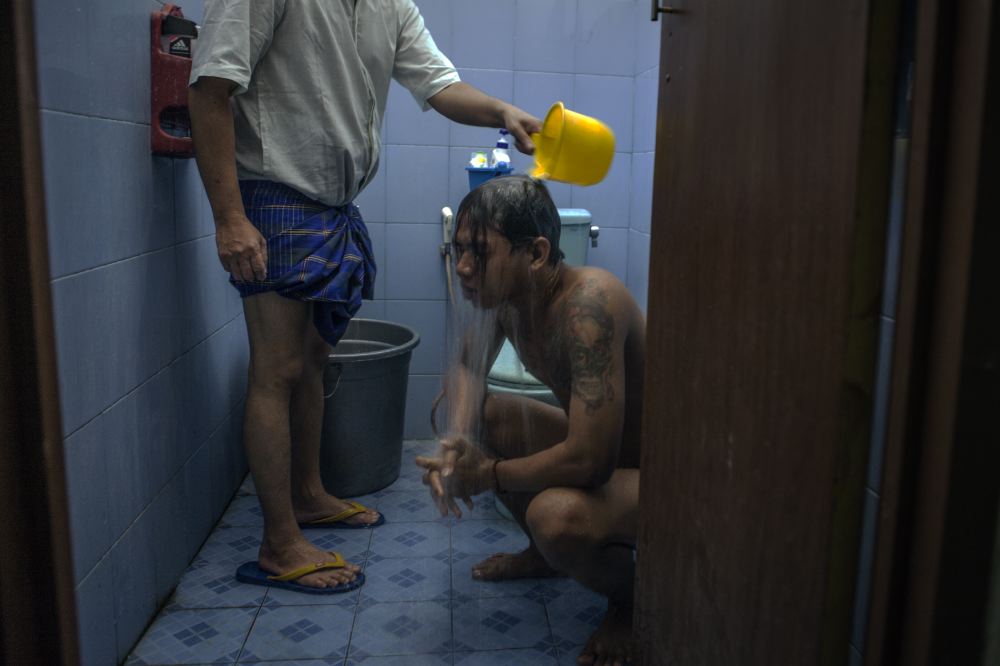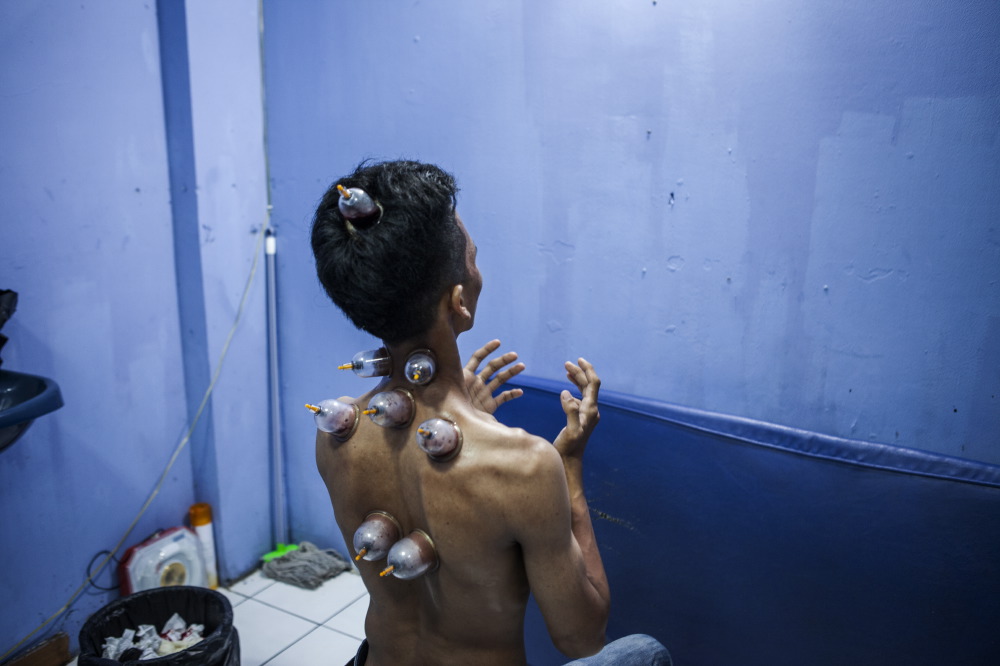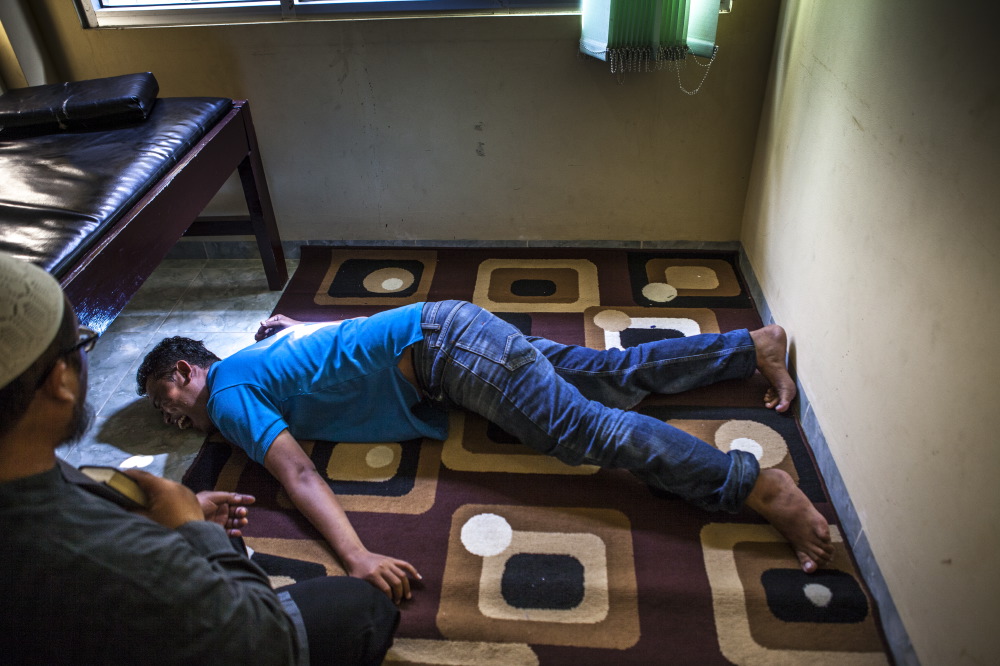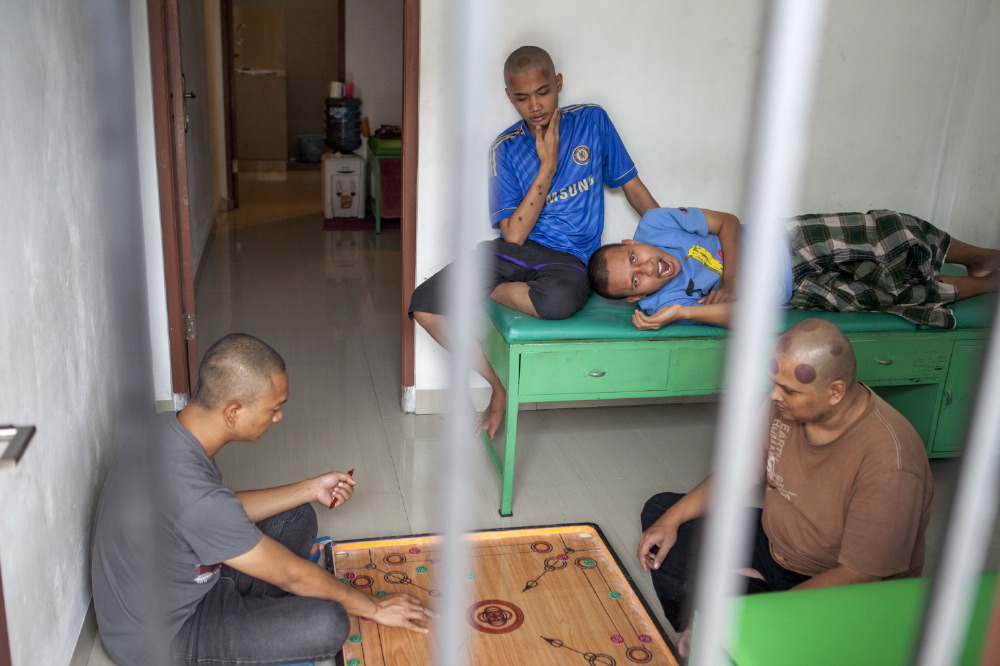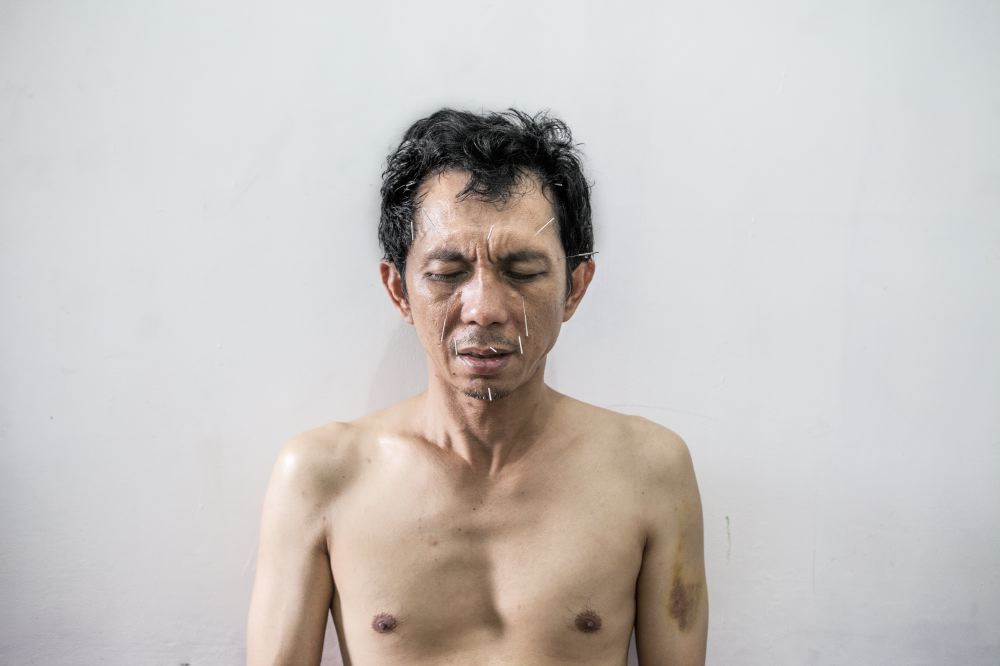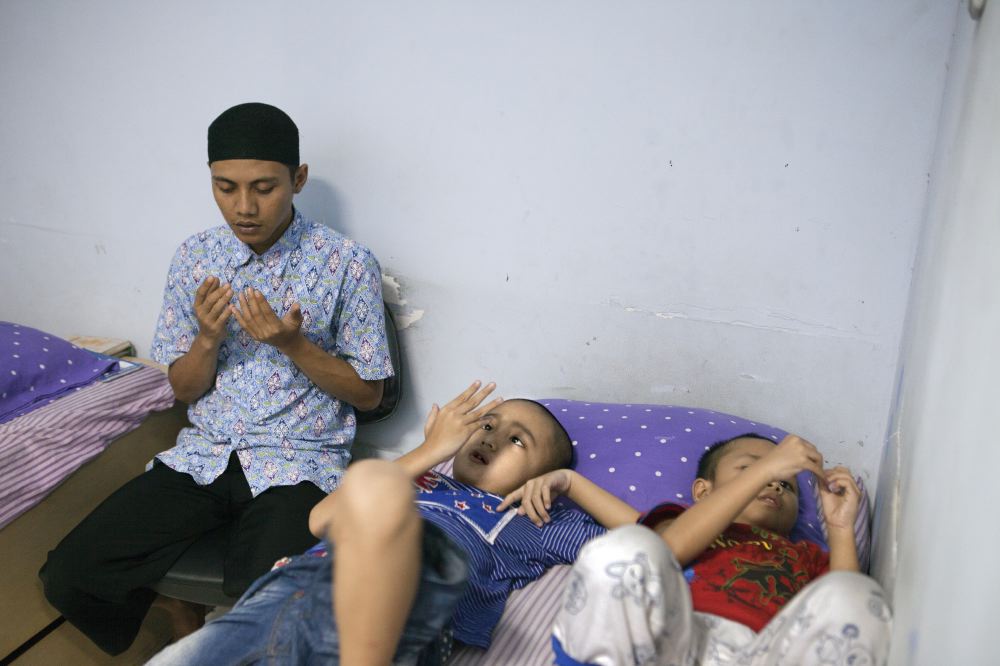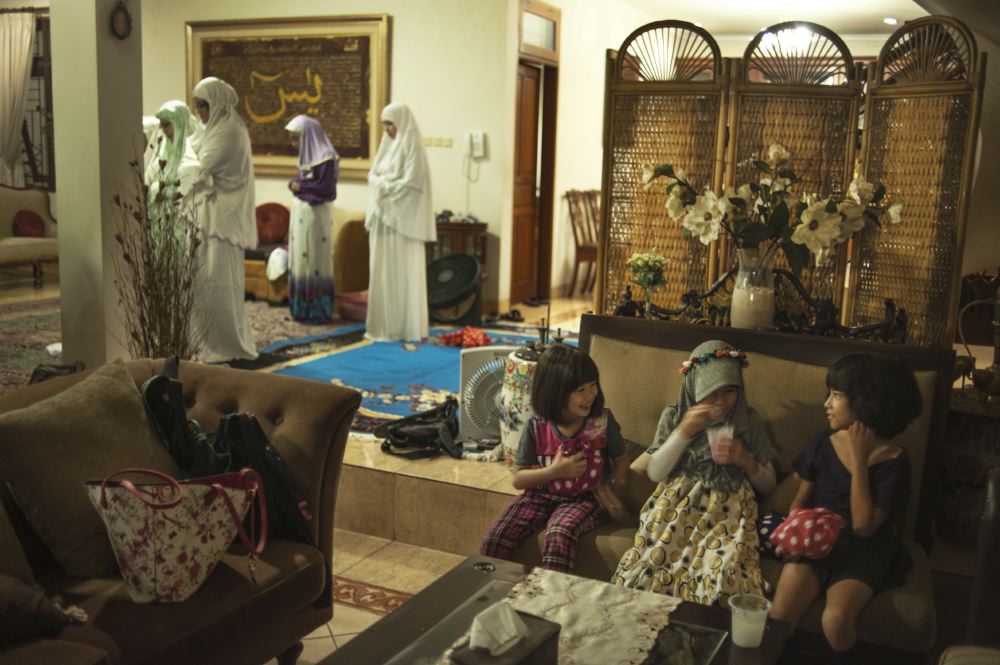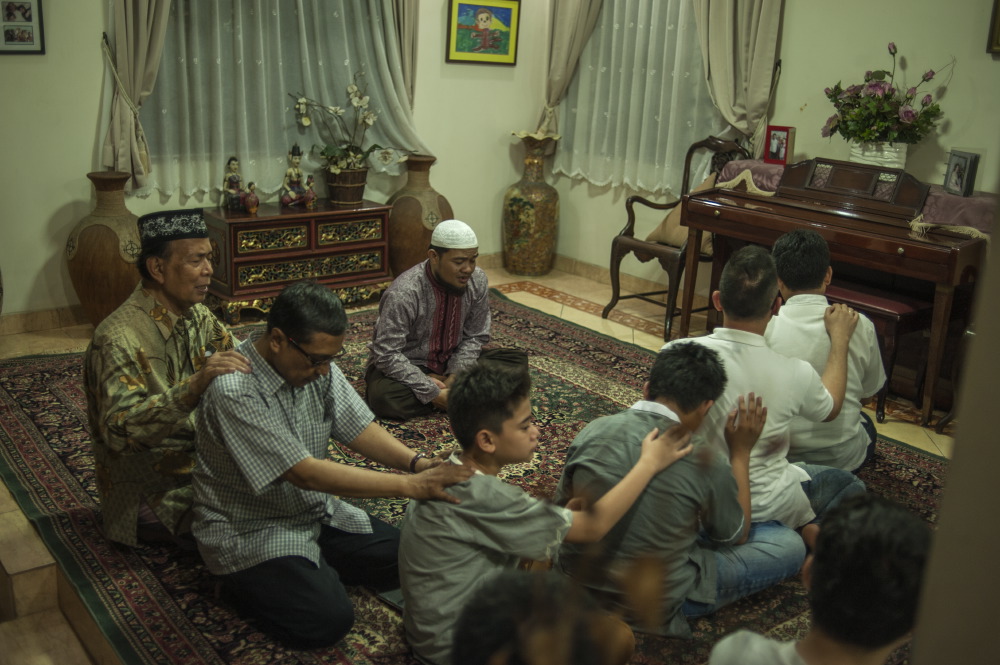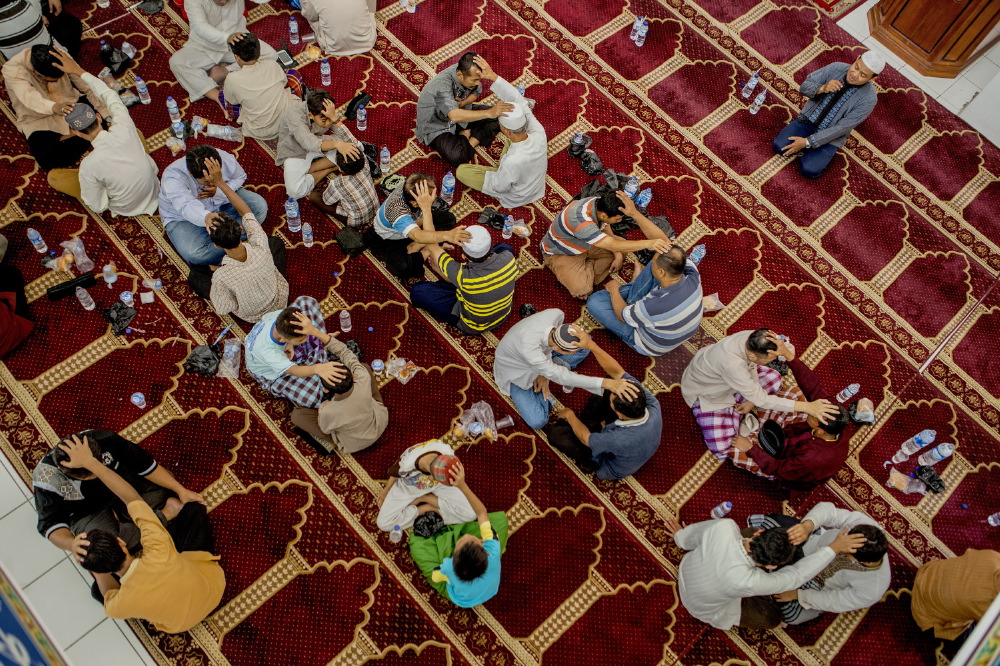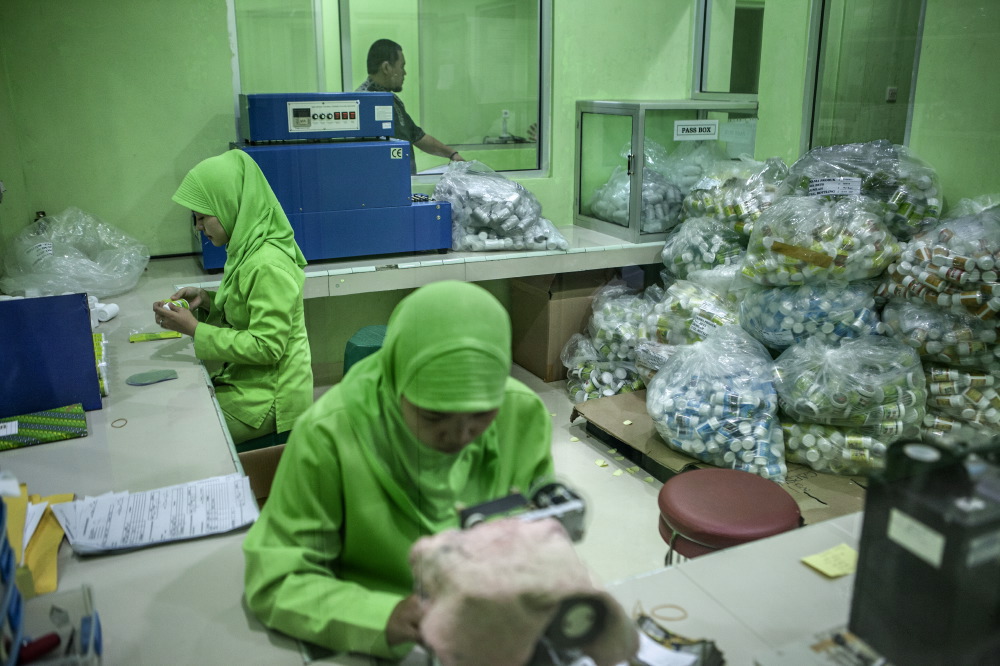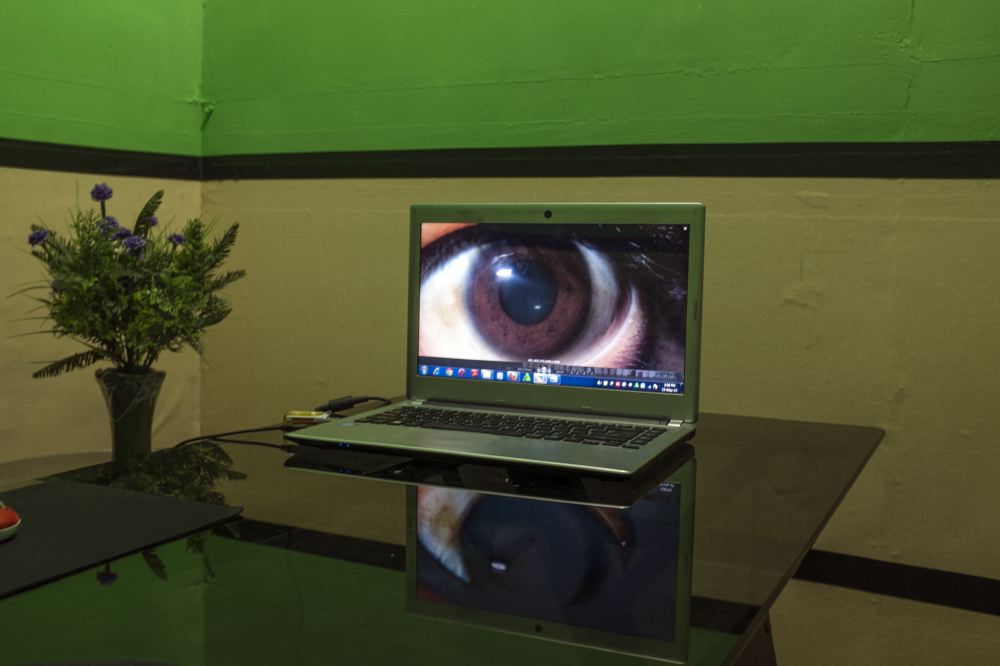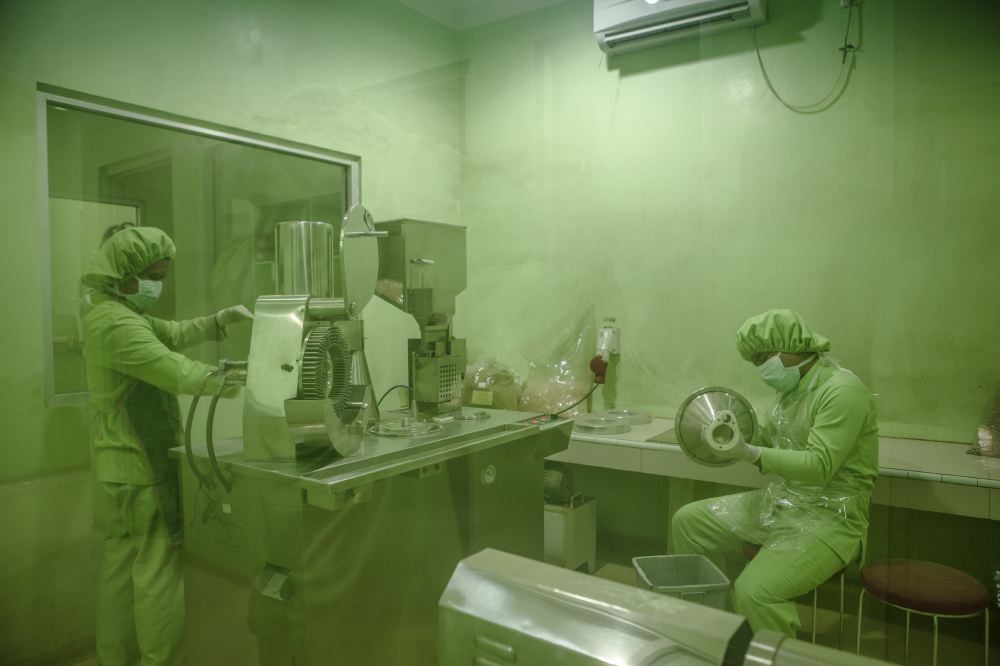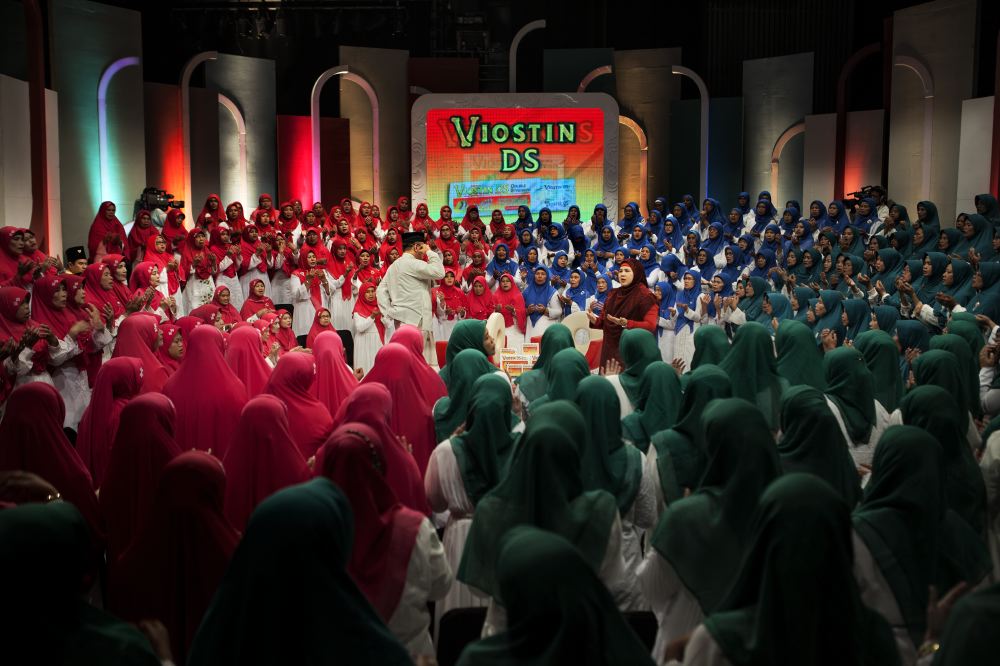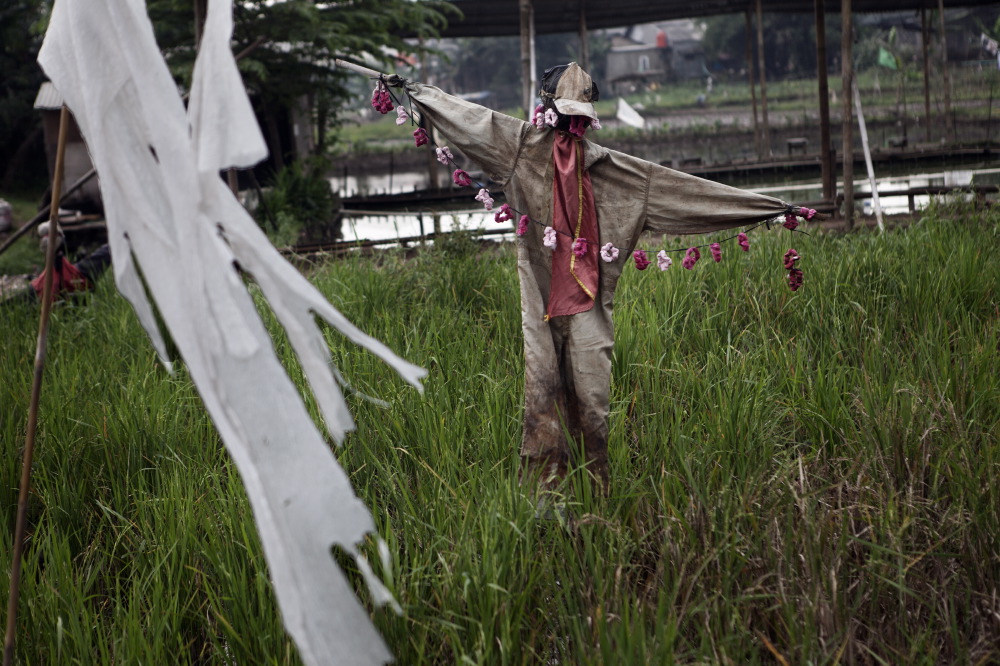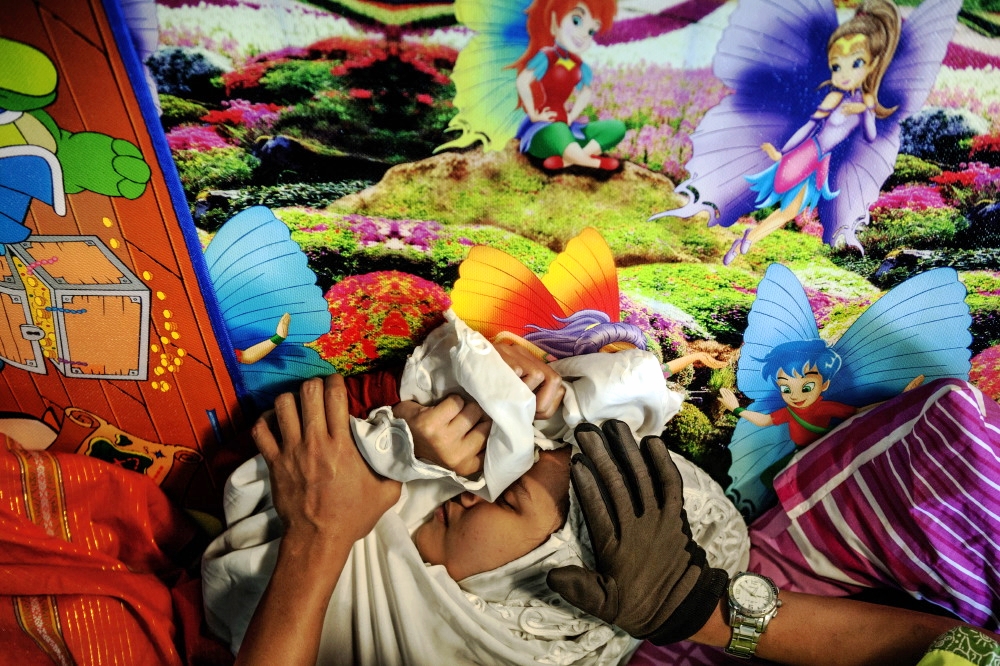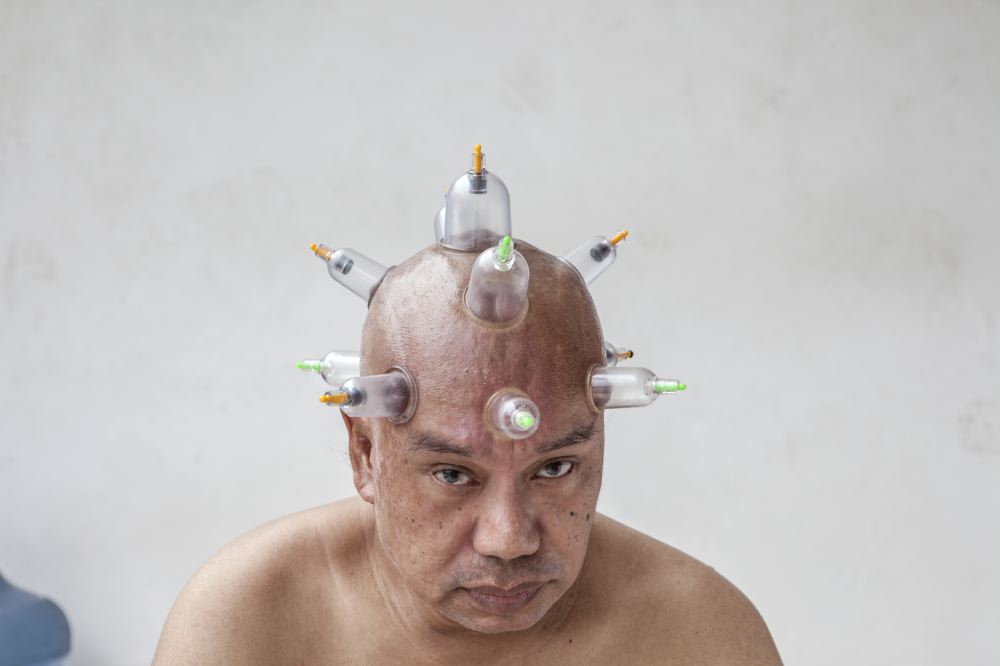 Islamic Medicine
Psychotic patient receiving a cupping session. Jakarta 2015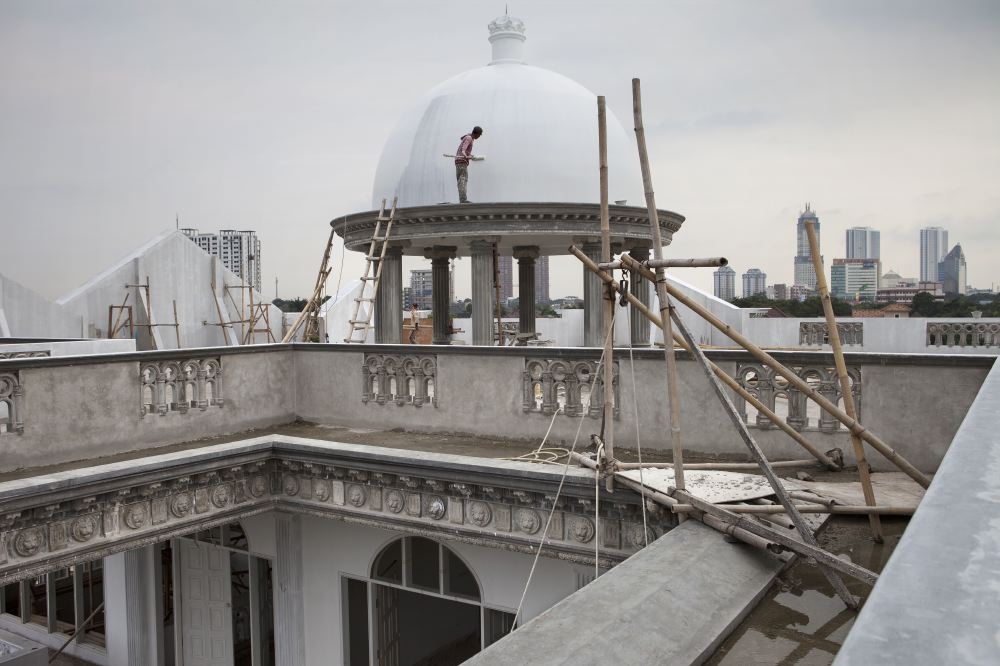 A man at work on the construction site of a house in Jakarta's Islamic Village. The Islamic Village is not a holy or scared place in itself, it is just inhabitated by Muslims who are having their houses built in order to look like mosques. In Indonesia, religion and power are intertwined; the wealthy like to brand themselves and their houses with Islamic icons. It is considered very elegant and appropriate for a powerful man's dwelling.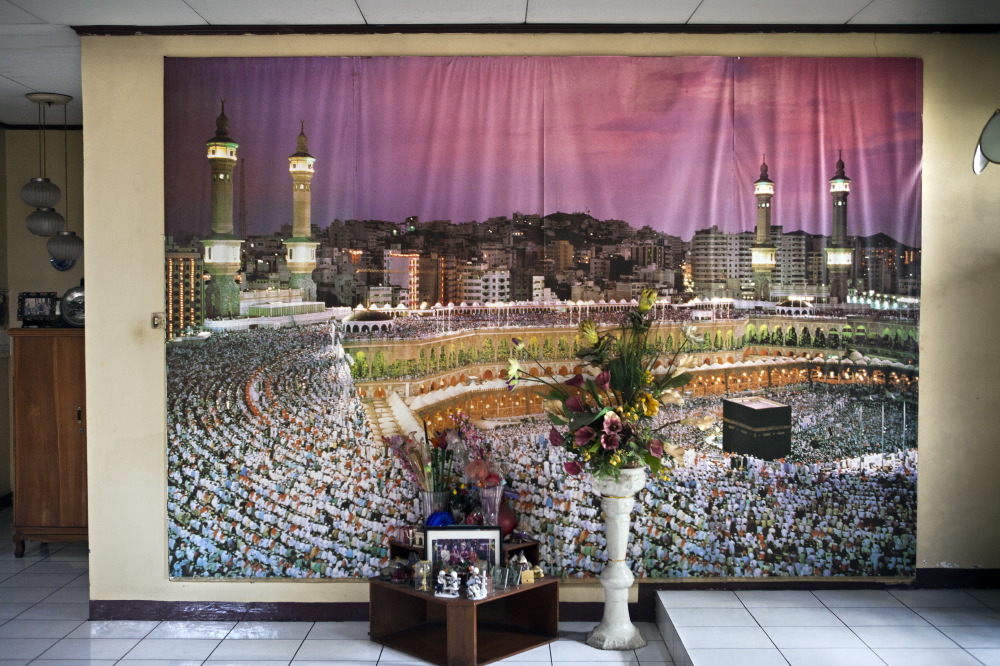 Mecca poster in a house believed by its owner to be haunted.
'Ghostbusting' or exorcism is very common in Indonesia, with people generally believing in ghosts and the presence of spiritual beings. However, in Islamic tradition there is no place for such entities. Only Jinn (spirits created by God) are accepted as real.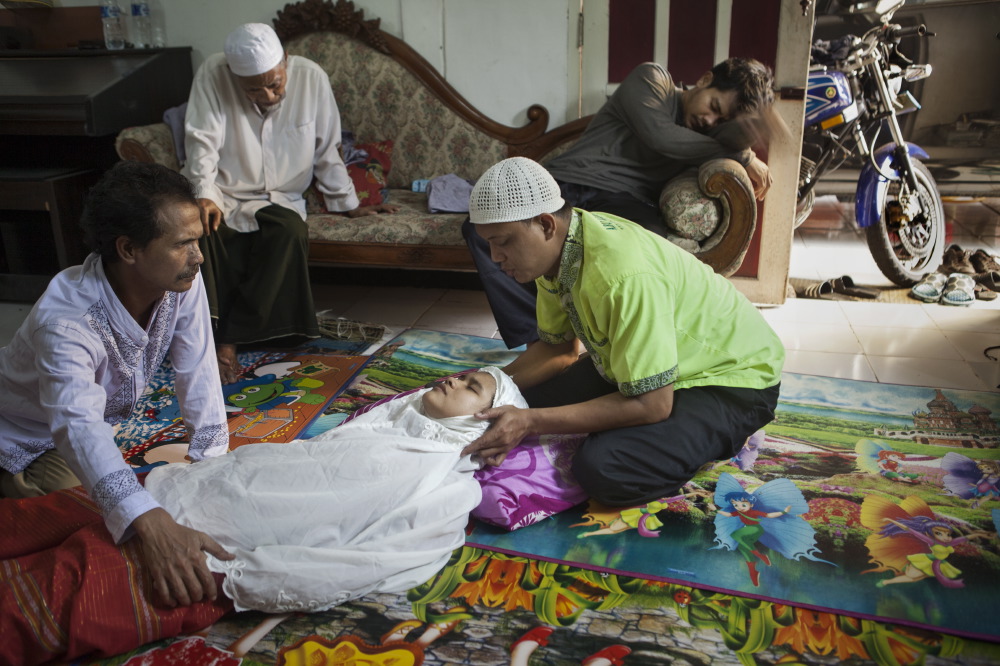 A young woman, seemingly suffering from panic attacks or a psychotic episode is undergoing exorcism. This process called Ruqyah is meant to trace and expel Jinn (spirits/demons/genies). Her family and boyfriend (the girl is 16 years old and not married) are watching with great distress. In order to be close to them, a respected Muslim man came to visit.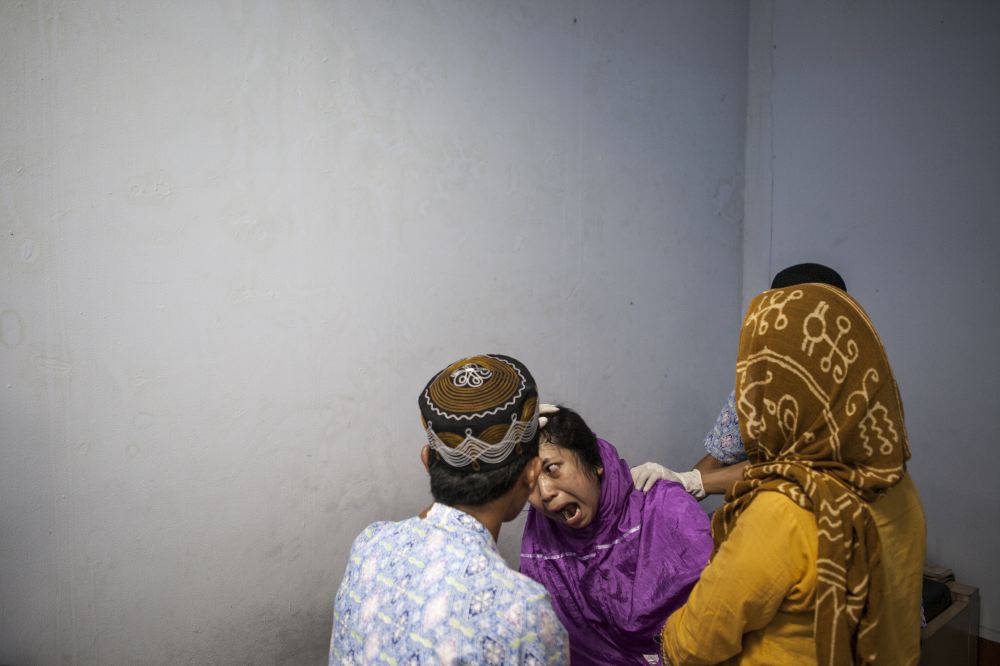 A Ruqyah session (an exorcism) is performed on a woman in a clinic in central Jakarta.
In the Koran it is written that God created Jinn along with mankind. Jinn (genies) are 'spirits' which can possess a body and even kill it. They have free will and like people are creatures of God. To kill a jinn or to have it do someone's bidding is considered very sinful and therefore prohibited.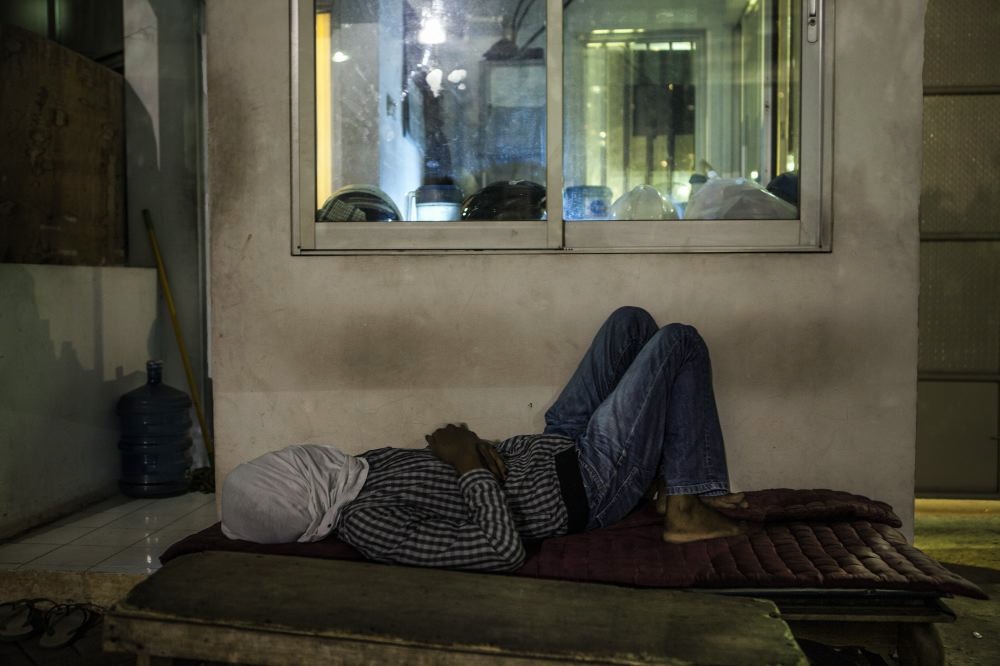 A man sleeps at night by a control cabin in a construction site in Central Jakarta. In spite of the renewed open access to public healthcare, poverty is so widely spread in Indonesia that sometimes Islamic medicine is the only choice. Especially in rural areas.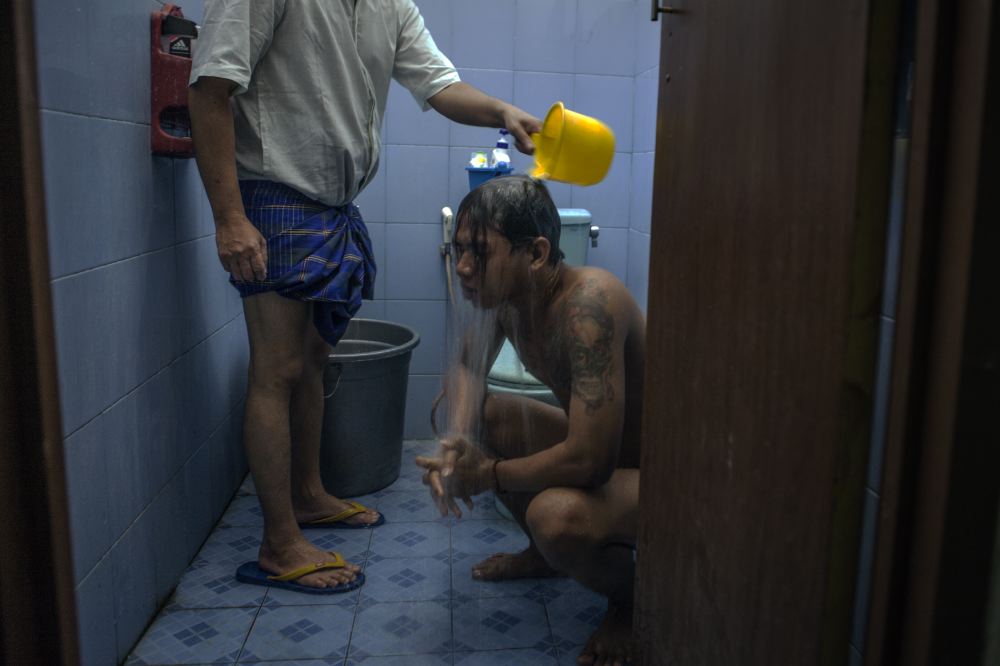 Central Java. A man from Malaysia with a history of drug addiction is recovering in a clinic in Tasikmalaya. Every morning at two o'clock he and his room mates receive a cold shower. During the rest of the night they recite mantras, prayers and take naps. The idea behind these cycles is a path of return to Allah.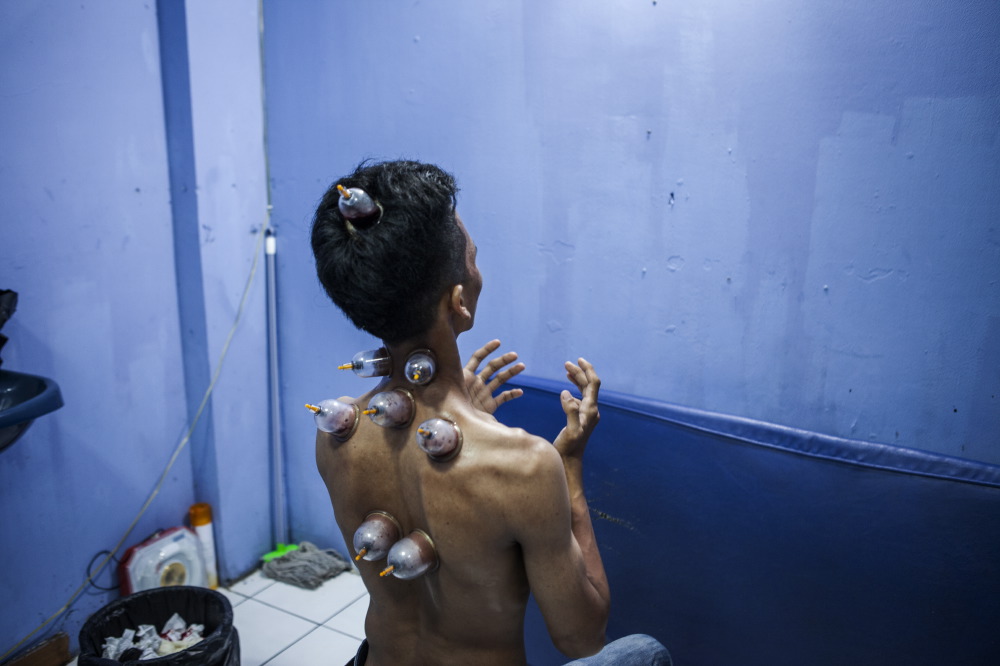 A man prays during a cupping session in an Islamic faith healing clinic in South Jakarta. Cupping, along with many other oriental medicinal elements has become a structural part of faith healing. Cupping is a very affordable and therapeutic solution for when the mind feels down.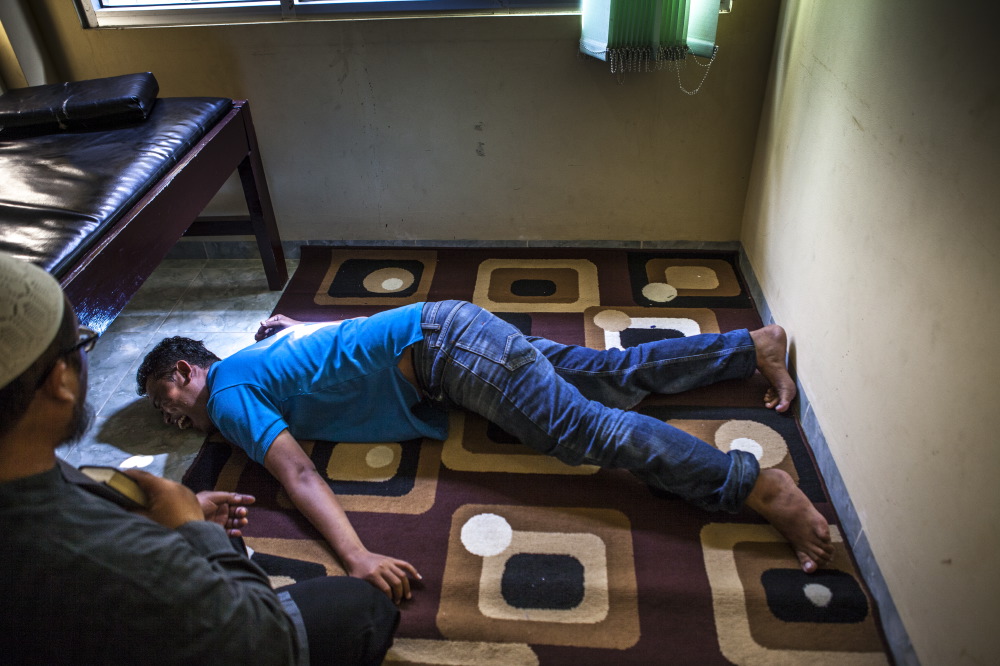 A Ruqyah session at a clinic in East Jakarta. A Ruqyah rids the body of a Jinn. Jinn are creatures born from God like humans, and should not be killed, tampered with or used in any way. To do so is considered black magic and represents a terrible sin. Healers never say for certain that a person has been cured by their hands. Fate is left up to God.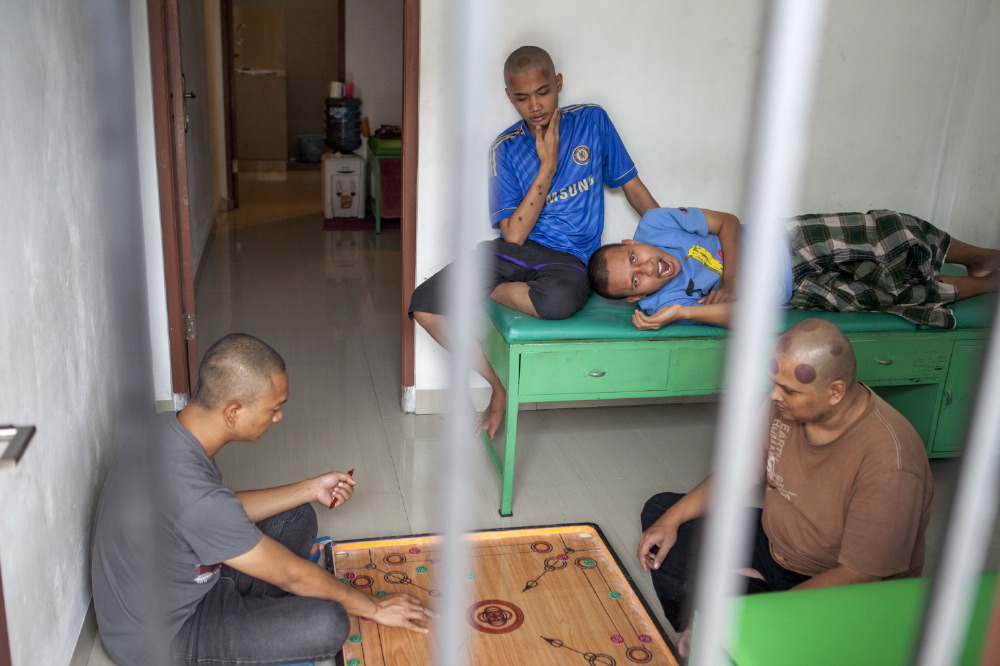 Four men recovering from drug addiction play and yawn at the Abu Albani Clinic faith healing clinic. The clinic specializes in personal and spiritual recovery. Patients live together, communally reading and reciting prayer. Other activities involve Islamic supplications to get rid of evil influences. These patients were all dismissed after recovery in 2015.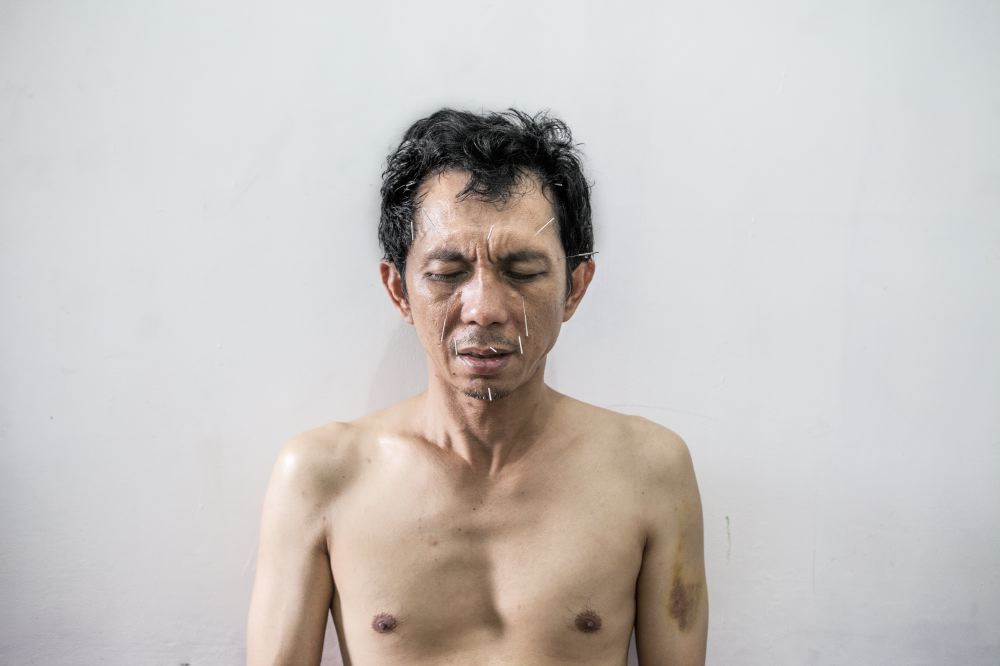 Acupuncture session. The Abu Albani Clinic in Jakarta offers services such as Hypnotherapy, Exorcisms, Acupuncture, Sexual Reorientation and consultancy regarding any issue of Islamic nature.
A boarding house for the blind In Depok, the southern area of greater Jakarta. The centre welcomes blind Muslims who can stay and spend time reading the scriptures. They also print the Holy Koran in Braille and send it to other organizations for the blind.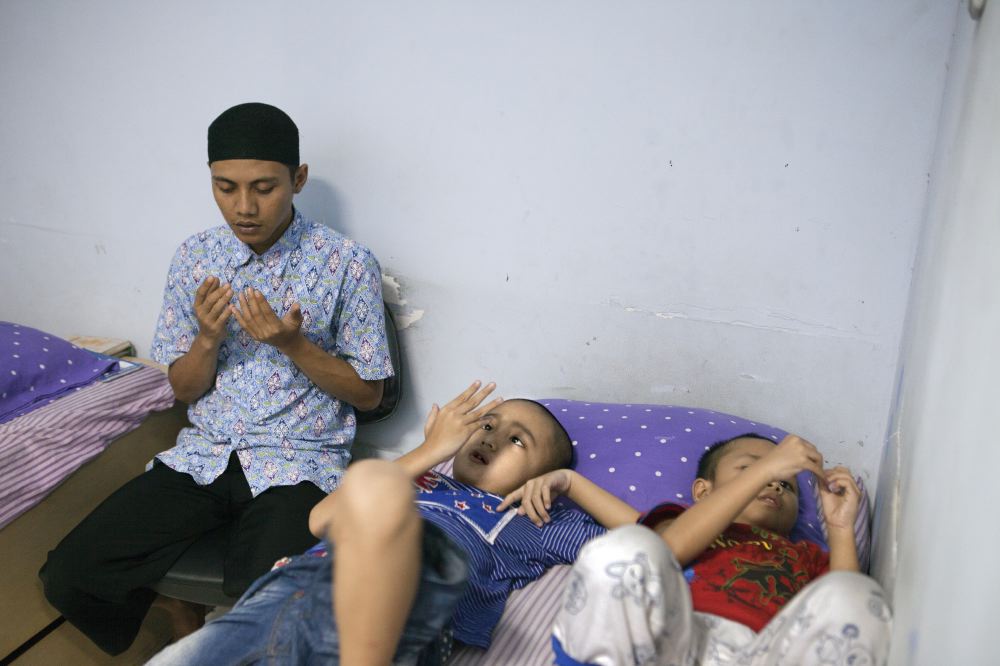 Two kids suffering from autism are being treated with exorcism in a faith healing clinic in Jakarta. People who cannot afford modern medicine or who tried and failed often turn to faith healing hoping that God may help. It is considered terribly painful to have a mentally challenged person in a family, the reason being that they cannot really understand God and therefore they are often discriminated against in society.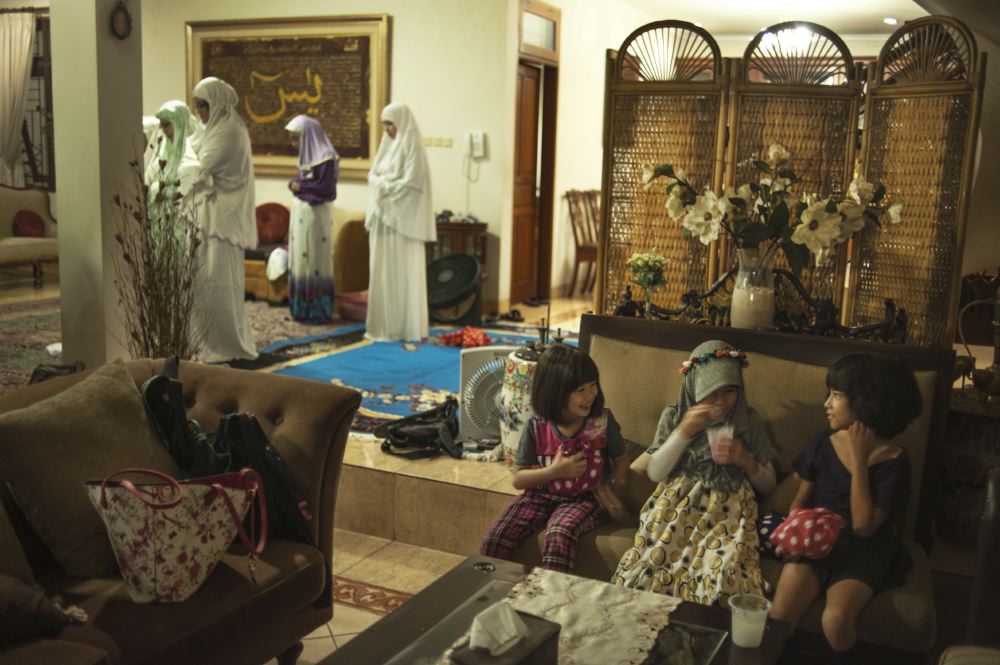 A very cultivated and wealthy family celebrates an Islamic festivity together. For the occasion they hired an exorcist to perform a Ruqyah. A Ruqyah is a chanted prayer that can be used as an exorcism. While the chant is being performed and the adults are praying, the children play.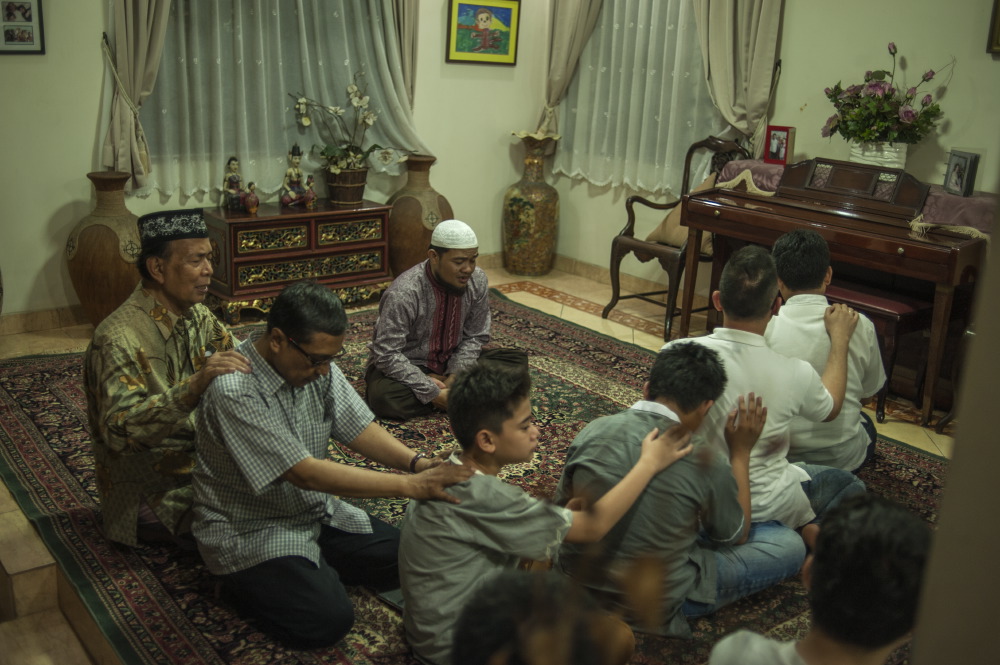 Islamic healer Aris Fathoni is singing to test a family for spiritual possession and bad influences. These rituals are very common and an occasion for a family to gather together. Having a professional performing a ritual such as this can be quite expensive by Indonesian standards.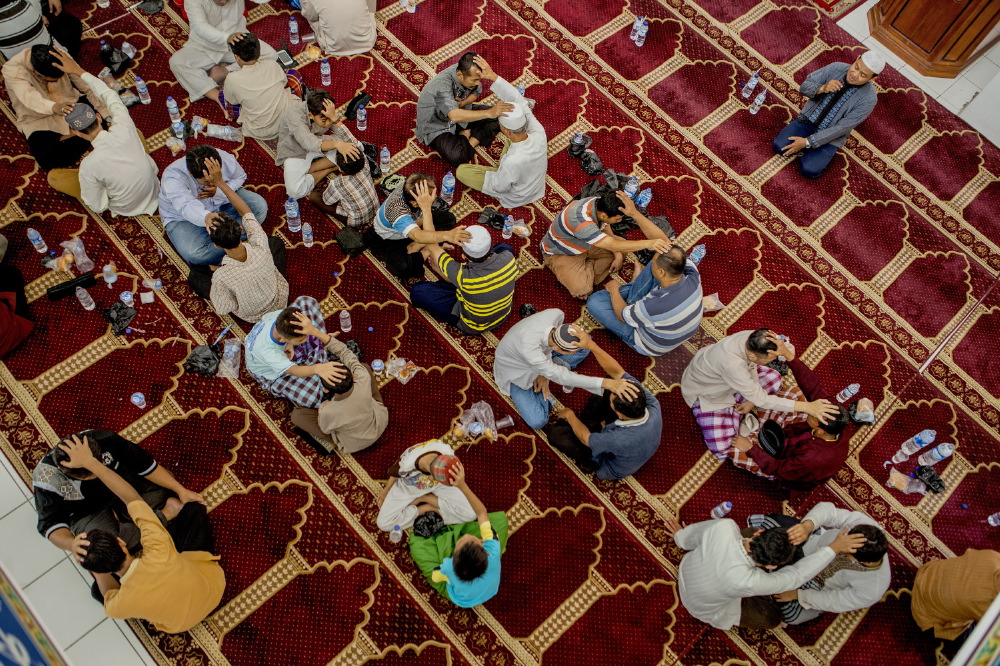 Aris Fathoni, a celebrity Islamic cleric, enchants people by singing a Ruqyah in a mosque in Central Jakarta. The Ruqyah comes from the Sunnah, the book of teachings. It contains the instruction to give to a Jinn (genie) to stop possessing a person's body.
People sometimes react by panicking or apparently 'freaking out' at the sound of a Ruqyah. This is considered to be the case of an active Jinn possessing the body and struggling to come out.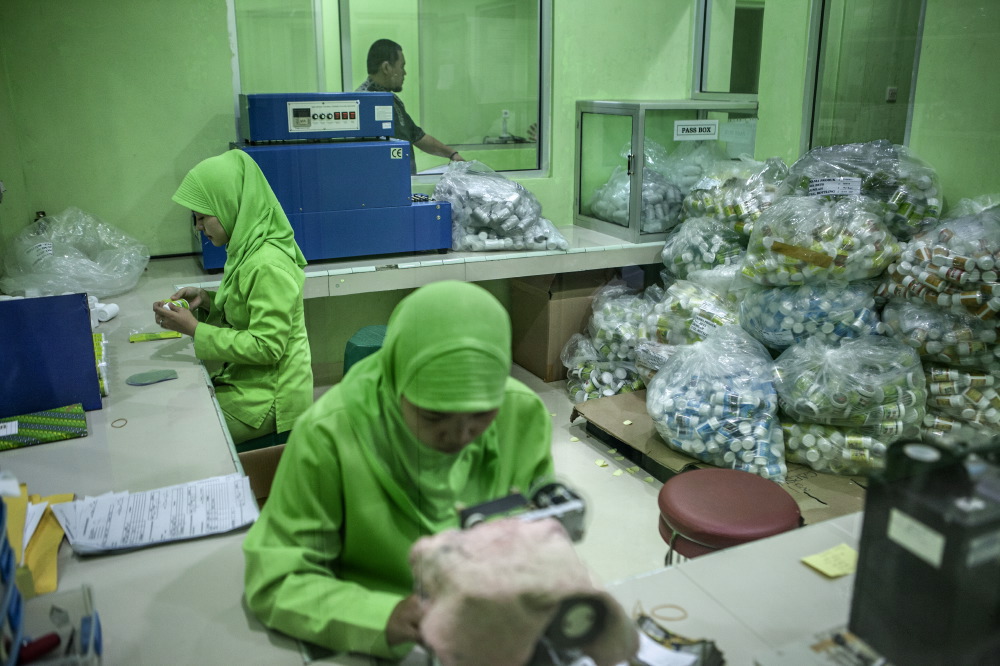 Employees manufacture pills at the Insani Herbal factory in Depok, South Jakarta.
The clinic has 24 employees. Of the 300 species of plants they grow, 80 are processed to become medicines. They produce between 700 and 1000 bottles a day, each bottle containing 80 capsules of various descriptions. They have 30 products. This type of business is quikly expanding.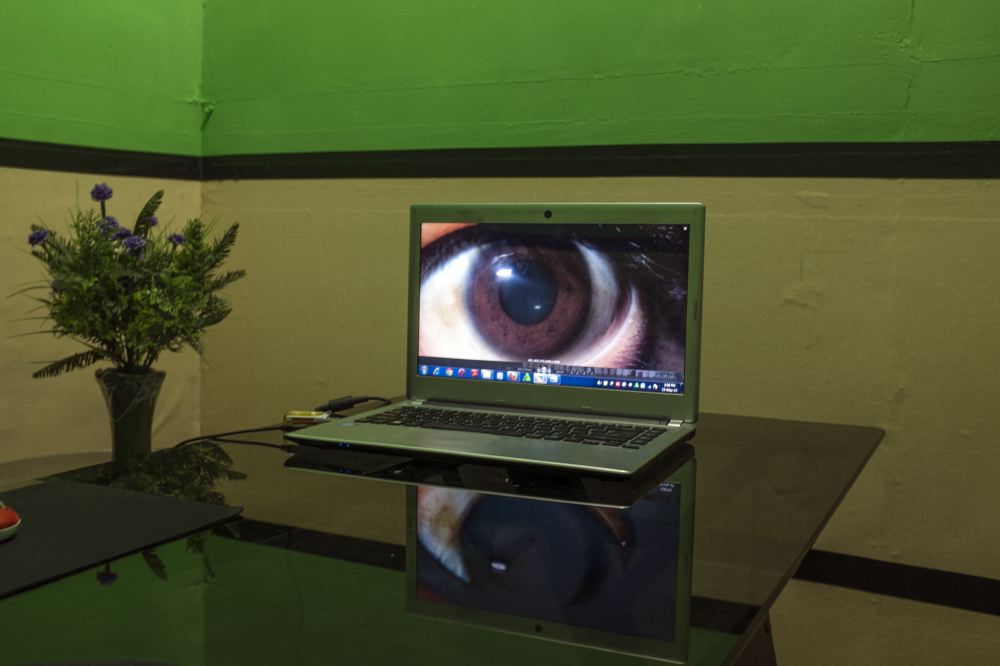 The eye of a patient photographed in a small faith healing clinic. The staff claim that the black circle around the iris is the sign of toxins. The staff keep a record of all the pictures of their patients' eyes.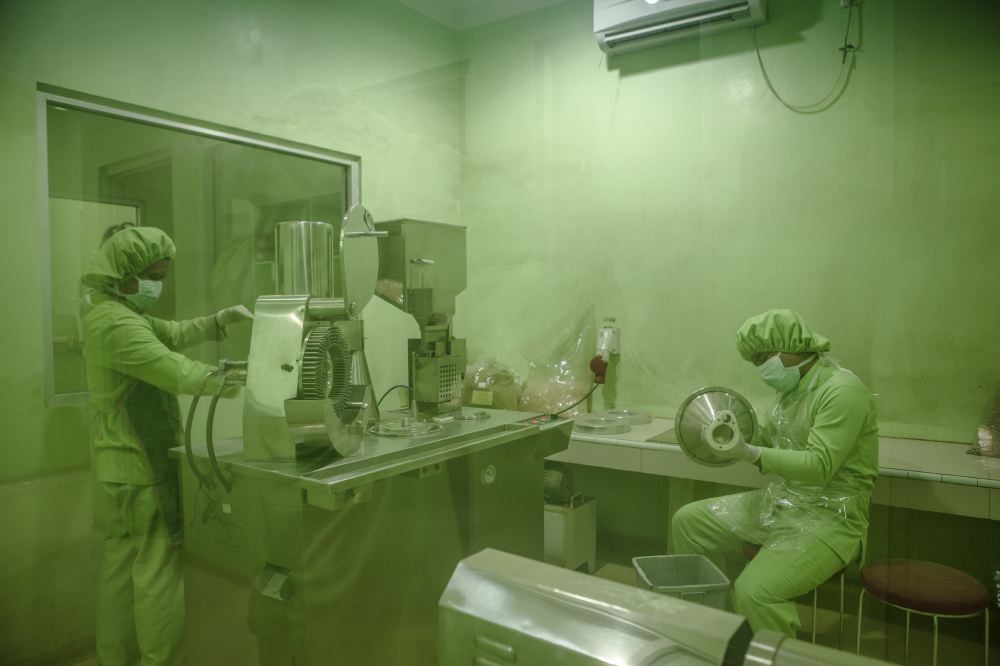 Insani Herbal Clinic, Depok, greater Jakarta. The factory produces a variety of products from about 80 plants and synthesizes the pills for sale.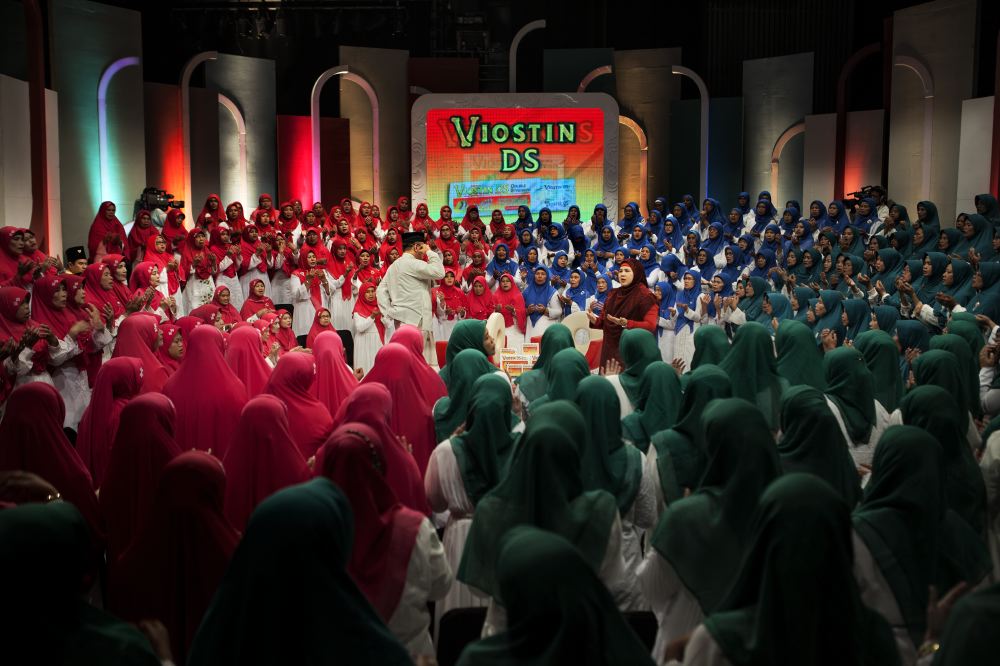 Mamah dan AA is an unscripted show for women about "Ta Aruf" flirting the Muslim way. While flirting is considered a sin that leads to sex out of the wedlock, "Ta Aruf is an assessment process, a longing for one another without contact, dealing in honesty and without pretence."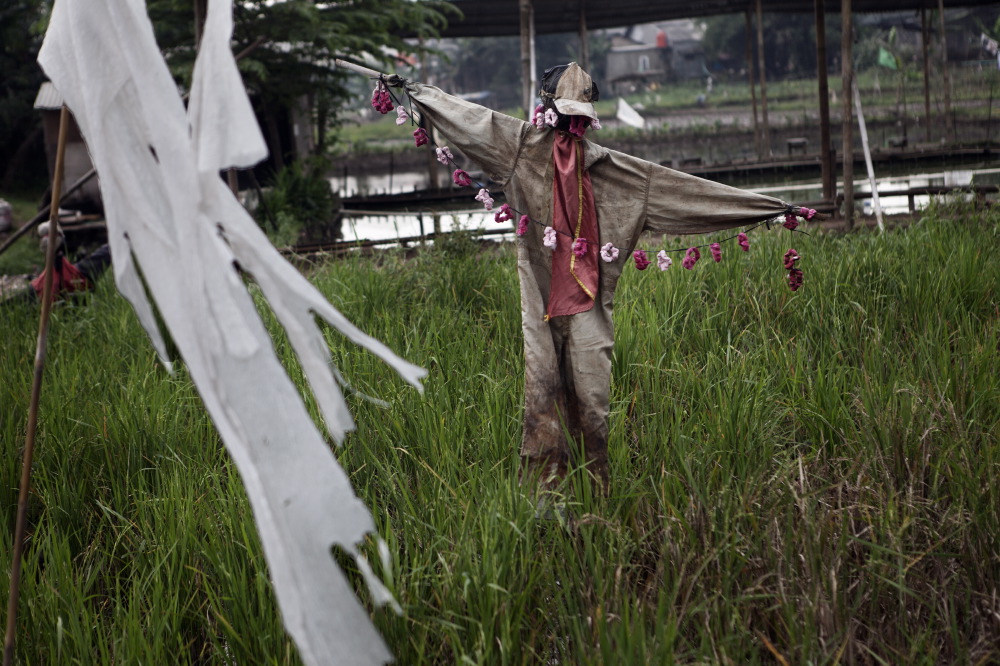 Scarecrow in East Jakarta. Ghosts, according to animist beliefs, come from and belong in nature, dwelling in the trees. However common these beliefs are, as spirits of nature or as a result of people who died, they have no place in mainstream Islam.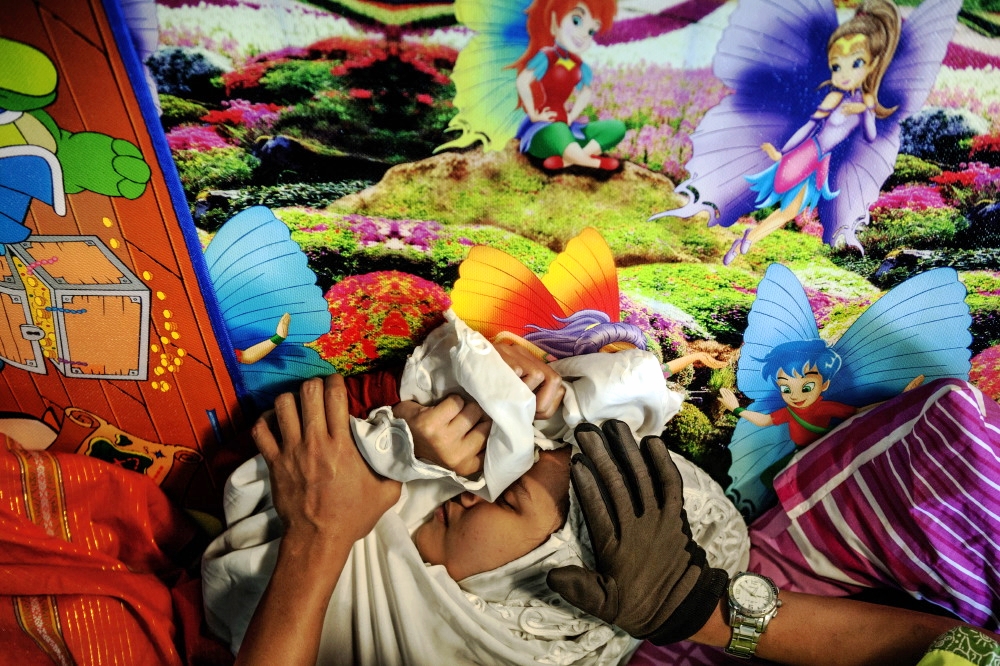 Young woman seemingly suffering a psychotic episode in her house. The woman is being held by members of the Abu Albani Clinic who are performing a Ruqyah.